Downeast Maine Pumpkin Bread Recipe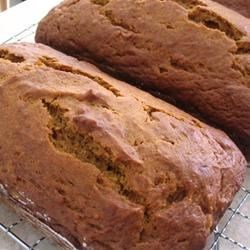 Pumpkin bread, pumpkin muffins, who doesn't love some pumpkin in the fall? This is by far THE best, most MOIST pumpkin bread recipe. Thousands of people have approved of it and given it five stars!
Ingredients:
1 (15 ounce) can pumpkin puree
4 eggs
1 cup vegetable oil
2/3 cup water
3 cups sugar
3 1/2 cups all-purpose flour
2 teaspoons baking soda
1 1/2 teaspoons salt
1 teaspoon ground cinnamon
1 teaspoon ground nutmeg
1/2 teaspoon ground cloves
1/4 teaspoon ground ginger
optional: a few cups of milk chocolate chips, nuts, raisins, ect. if desired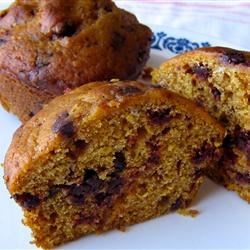 Directions:
1. Preheat oven to 350 degrees F. Grease and flour three 7x3 inch loaf pans (or line cupcake pans).
2. In a large bowl, mix together pumpkin puree, eggs, oil, water and sugar together. In a separate bowl, whisk together flour, baking soda, salt, cinnamon, nutmeg, cloves and ginger. Stir the dry ingredients into the pumpkin mixture until ust blended. Add additional ingredients now. *I throw in a ton of milk chocolate chips here. The more chocolate the better, I always say!* Pour mixture into pans or cupcake liners.
3. Bake loaves for 50 minutes or muffins for about 20-25 mins? I don't time the muffins when I make them I just watch to see when they turn a little brown on top. I like the outside a little crispy!*
4. After they cool you could put a cream cheese frosting or powdered sugar on top, too!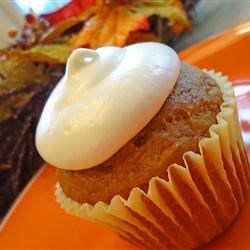 Enjoy your pumpkin treats and have a Happy Thanksgiving!!